Investing in the future of enterprise software, entrepreneurs
In September, we announced the close of $162 million in fresh capital for us to invest in early-stage enterprise software, data + AI, cybersecurity, infrastructure and DevOps startups.
Since we started investing ten years ago, we have believed our team's experience as operators and entrepreneurs gave us a unique platform to help companies navigate their journey. We are now doubling down on this approach with the introduction of Cervin's portfolio services team led by Silicon Valley veteran Scott Brown. Scott most recently led marketing at Hum Capital and Sapphire Ventures. This team will be expanding our capabilities in helping our portfolio companies with their go-to-market efforts, business development, and industry research. We have also expanded our investment team with the addition of Taylor Oliver as a Principal. Prior to joining Cervin, Taylor helped launch two separate first time funds, Plug & Play Supply Chain and Tenacity Venture Capital. His investing activity will be focused on the application layer, particularly in the areas of commerce, fintech, and supply chain. Both Scott and Taylor will be based with the rest of the investing team in Palo Alto.
We are thrilled to have raised this new capital and for the opportunity to continue to work with amazing enterprise software entrepreneurs.
State of the Venture Capital Market
Q3 was an important quarter for venture capital. After several quarters of inactivity, Instacart and Klaviyo went public. About a month later, Instacart was trading at a 16% discount to the IPO price and Klaviyo was treading water. Both companies trade at about a $7B valuation.
As anticipated, the US venture deal value and count continued to fall. Deal value and deal counts for 2023 are expected to be the lowest since 2019. Deal value for the first three quarters is around $126B and is expected to end the year at $150-160B including Amazon's $4B investment in Anthropic. See the figure below (Source: Pitchbook).



Globally, 2023 is likely to be lower than 2019 in terms of deal value and count (around $300B in value and 30K deals), rendering the COVID years of 2020-2022 a massive bubble from which the air has now been let out. See the CBInsights graph below.



Pre-seed and seed deals saw a similar trend and are the lowest since the pandemic. $3.2B was invested which was similar to 2018 numbers. Median deal sizes remained constant with pre-seed deals at $0.5M and seed deals around $5M. See the graphs below from Pitchbook.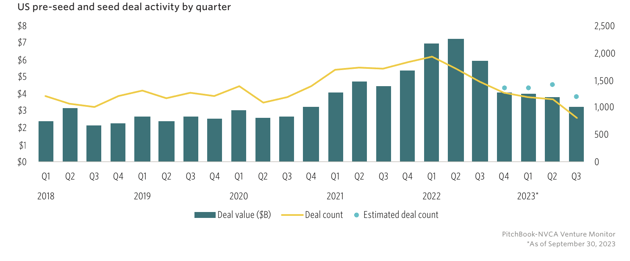 Early stage deals are on pace for a 6 year low. Moreover, out of the entire venture capital deployed in 2023, only 24.7% went to early-stage startups - lower than the previous decade's average of 29.9%. However, early-stage deal size continues to remain above pre pandemic levels and valuations are holding steady at pandemic levels. The industry is being far more selective with only the best companies getting funded and AI companies are commanding high valuations. See figures below from Pitchbook.


We expect the environment to remain similar in 2024 with a likely uptick in 2025. The macro environment will continue to be a major factor in allocations to VC asset class and distributions through IPOs and M&A.
Portfolio News
We welcomed the following new companies to our portfolio in Q3.

Conveyor is an experience-first compliance startup. Conveyor's first product is the most accurate, Chat GPT-powered customer trust portal that automates the entire customer security review, from document sharing to security questionnaire automation. The company recently announced a $12.5 million Series A. The round was led by Cervin with participation from Maverick Ventures, and prominent security and SaaS angel investors.

Causely is bridging observability with automated orchestration for self-managed, resilient applications at scale. Founded by a team of repeat entrepreneurs, Ellen Rubin and Shmuel Kliger, Causely aims to harness a Causal AI algorithmic approach to fully automate IT and DevOps processes, reducing operations overhead and time to resolution. Cervin joined 645 Ventures and Amity Ventures to extend a previously announced $8.8M seed round.



Brinker helps high profile individuals, organizations, and businesses fight online harassment and misinformation by using AI-powered legal action, media publication, and social flagging.
We are pleased to share that the hard work of founders and their teams of our existing portfolio companies is widely recognized by the market, as their companies have successfully raised follow on rounds.

Catch+Release, the content licensing marketplace for brands and creators, recently announced $8.8M in funding. The round saw continued investment from Accel, Cervin and Stagwell, as well as new investors HarbourVest Partners in addition to successful technology founder, Nick Mehta, and professional basketball player and entrepreneur Kevin Durant. The new round of funding will allow Catch+Release to accelerate its product features, enhance the user experience, and fuel the growth of its creator community.