Reflections on the Market
Q3 saw significant evidence of the slowdown in venture. Per CB Insights data, VC investments worldwide totalled $74.5B in Q3'22, down 34% from the previous quarter and is back to 2019 levels. Silicon Valley startups raised $10.7B in Q3 2022, down 36% quarter over quarter and the lowest since Q4 2019.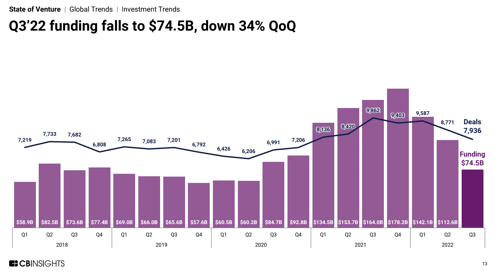 It seems it is the beginning of a slowdown that may likely last for a few quarters. Carta reports that median IRRs across all vintages declined in 2022. VC returns are also likely to decline in Q4 '22 and H1 '23 as companies have to raise additional capital.
In general, later rounds are seeing the brunt of this pause:


- Average global deal size dropped to $18M in 2022, down from $25M in 2021.
- The number of $100M mega rounds are lower than Q2, BUT still higher than in 2019.

The unicorn minting process has also slowed down - only 25 companies globally reached unicorn valuation in Q3, down from 87 in Q2 and 125 in Q1. The most active global investors have also cooled off. There are 56% fewer investments from last quarter's top investors including Tiger Global.

The slowdown is also evident in the US - Q3 saw $43B investment in VC deals (down from the $70M - $80M level in Q1 and Q2 2022), a 9 quarter low. Angel and seed financings in the US have dropped 18% from Q1 2022. However the seed median deal size is $10.5M in 2022 up from $9M in 2021.
Early stage (Series A) financings are also lower, but number of deals is constant, this has led to a reduced average valuation - 16.4% lower from Q2 '22. The angel and seed markets are holding up better.
Finally, in our space, enterprise deal counts and numbers are lower than 2021 levels, but still higher than 2019 and 2020.


In summary, while the industry has slowed down, we remain confident in our market (enterprise technology) as the world's dependence on technology continues to grow. Our disciplined approach, which we have honed for over 10 years is ideally suited to this environment. Notably, Cervin has no companies that are expected to have mark-downs on write-downs because of this current slowdown.
*Data from CBInsights, Pitchbook, Carta
Portfolio Company News
We are pleased to share progress across our portfolio.



Anvilogic, a threat detection automation platform, raised a $25 million Series B round of financing. The round was led by Neuberger Berman, with participation from Xerox Ventures, G-Squared Equity, Foundation Capital, Point72 Ventures and Cervin. This round brings Anvilogic's total funding to $40 million.

Recently, we welcomed new companies to our portfolio:



Bolster, an automated digital risk protection company, announced a $15 million Series A round of funding led by Cervin, Liberty Global Ventures, and Cheyenne Ventures with participation from previous investors Thomvest Ventures and Crosslink Capital.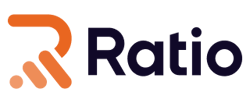 Ratio, a platform combining payments, pricing, financing and checkout into one platform, announced $411 million in equity and debt funding. The new funding includes $11 million in equity raised in late 2021 and a $400 million credit facility for customer financing. Investors in the round include Cervin, Streamlined Ventures, 8-Bit Capital, HoneyStone Ventures, and a group of individual investors.

Flightcontrol, a platform that makes it easy to deploy scalable, secure applications without devops, raised a round. It provides a Heroku-style deployment experience on a company's own AWS account. This removes the traditional tradeoff between being easy to use or having full control and scalability.

Other Portfolio News:


- LaunchDarkly has been named a 2022 Cloud 100 honoree alongside the biggest private cloud companies in the world. The list is produced in partnership with Bessemer Venture Partners and Salesforce Ventures.

- Paystand acquired Yaydoo, one of Mexico's 100 fastest-growing startups and the Mexican and LATAM leader in accounts payable, cash flow management, and liquidity solutions. Paystand was also named to the Inc. 5000 list of fastest-growing companies for the third year in a row.

- WEVO was named to the Inc. 5000 list of fastest-growing companies.

- AiFi reached the key milestone of deploying its seamless autonomous shopping experience in 80 retail stores worldwide, by working with major technology providers and retailers such as Verizon, Microsoft, Carrefour, ALDI, Compass Group, Sodexo, Choice Market, and Żabka Group.

- Celona announced several new partnerships, including ones with Black Box, the New York Public Library system and the BMW Group. The company was also named one of Forbes "Next Billion Dollar Startups 2022."

- Anshu Shrivastava, founder of ThirdAI, was featured in the Wall Street Journal. In the article, he shares how he is rethinking the fundamentals of AI itself in an effort to make it cheaper and more widely used.

- ArmorCode announced an integration with Traceable AI, the industry's leading API security and observability company. The integration brings Traceable AI data into the ArmorCode platform and improves Application Security Posture from code to cloud.
- Lightlytics was mentioned by CRN as one of the coolest Amazon Web Services (AWS) Re:Inforce startups.