Venture capital activity continues its decline in 2023
Venture capital funding, led by a decline in late stage funding, continued its slowdown that began in 2022. Only 19 late stage mega-rounds occurred in Q1 2023 - compared with 98 in Q1 2022. That is a staggering drop, and not surprisingly, the valuations were affected as well - median pre-money late stage valuations fell by 17% to $54M.
Decline in angel and seed stage financings began later - in 4Q 2022 - and has continued into the first quarter of 2023. Deal value fell to $3.3B - a 53% decline from Q1 2022. As we had predicted, the funding decline has finally found its way to the earliest investing sector in venture capital. The figure below shows the decline.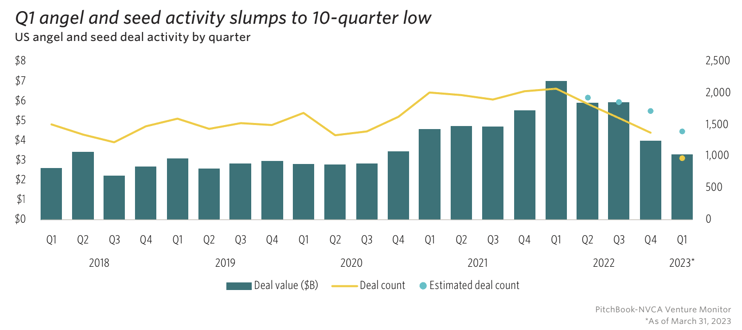 Early stage funding also saw its lowest deal value since Q2 2020 - another trend we had anticipated. Median deal sizes fell to $6.2M, down 30% from 2022 numbers. The number of larger Series A (greater than $25M) rounds fell to 105 - this number was 157 in Q1 2021 and 238 in Q1 2022! We expect this decline to continue. The charts below give a good indication of where we stand in early stage VC.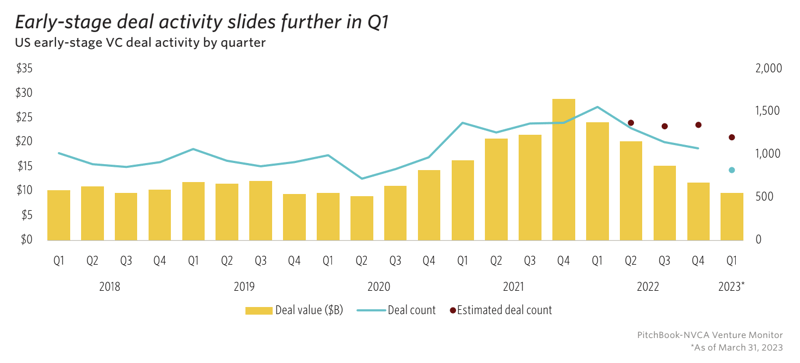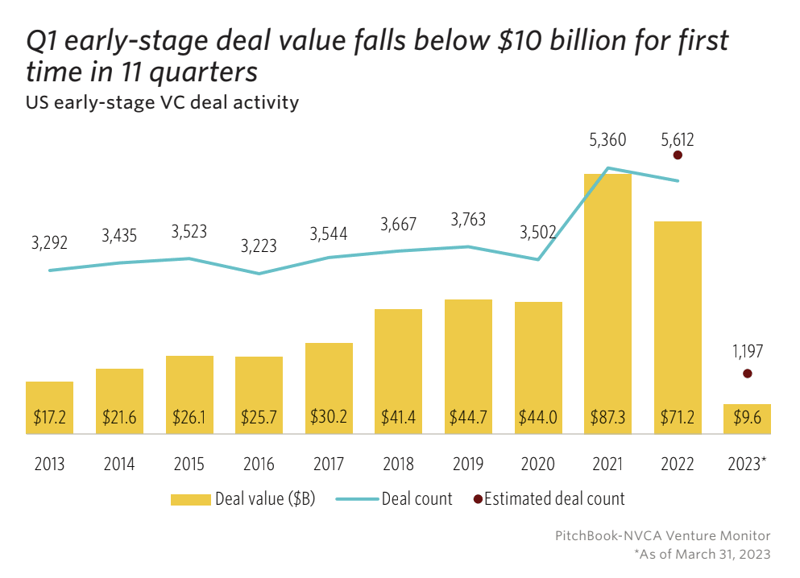 2022 was also the slowest year for public listings since 2016 and this trend has continued in 2023. Until this picks up, it is hard to see venture capital activity increasing substantially.
Finally, no newsletter about Q1 2023 is complete without a mention of the collapse of Silicon Valley Bank. We are happy to report that none of our companies were affected in the end. However, the venture ecosystem needs strong banks that understand our unique needs. We look forward to working with the new banks that undoubtedly will fill the gap.
Portfolio News


Recently, we welcomed FireCompass to our portfolio:

FireCompass, a cyber-security company, raised $7 million in funding to revolutionize Red Teaming and Attack Surface Management. The round was led by Cervin and Athera Venture Partners (previously Inventus Capital) along with existing investor BIF (Bharat Innovation Fund).